What's New With Plastic Mulches?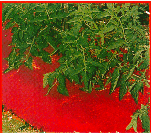 Grow sweet corn by the Fourth of July!
Learn about the newest ways to produce early sweet corn under clear plastic mulch.

Have the earliest lettuce around!
How to use clear plastic tunnels to produce lettuce two weeks earlier than normal.

Increase your tomato yield by up to 20%!
The facts about how colored mulches can boost tomato production.

Which mulch to choose for your garden.
Which colors work the best, and for what reasons.

How to irrigate under plastic mulch.
The last step to maximizing yields from plastic mulches.
Here's a great search engine for most of your plant questions.
See my Resume

Web site created by

David Agle (agle.2@osu.edu)

as Project for H&CS 560 at The Ohio State University